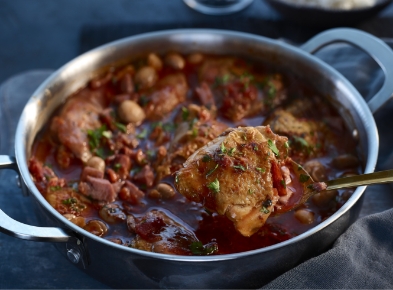 Chicken Chasseur
INGREDIENTS
Serves: 4
2 Packs Simply Better Irish Corn Fed Chicken Thighs
2 Tbsp. Simply Better Italian Extra Virgin Olive Oil
1 Tin of Simply Better Italian Chopped Tomatoes
1 Pouch of Simply Better Irish Free Range Chicken Stock
1 Pack of Simply Better Irish Unsmoked Bacon Lardons
250ml Simply Better Chianti Classico Red Wine
25g Plain Flour
Knob of Butter
2 Small Shallots, finely diced
2 Cloves of Garlic, crushed
175g Button Mushrooms, trimmed
2 Tsp Worcestershire Sauce
1 Tsp Chopped Fresh Thyme
2 Tbsp Chopped Fresh Flat-Leaf Parsley, plus extra to garnish
Sea Salt and Freshly Ground Black Pepper

Serve with some butter mash potatoes or rice and enjoy
METHOD
1. Season the flour and toss the chicken thighs in it until lightly coated, shaking off any excess. Heat the oil in a large skillet pan over a medium-high heat and tip in the dusted chicken. Sauté for 3–4 minutes, stirring occasionally, until just beginning to brown then remove from the pan and place on a plate.
2. Add the butter to the pan and add the shallots, garlic, mushrooms, thyme and bacon and cook for another 3–4 minutes.
3. Pour the chicken stock into the pan with the wine, Worcestershire sauce and chopped tomatoes. Bring to the boil, then reduce the heat and add the chicken thighs back into the pan and simmer gently for about an hour until the chicken is cooked through and the sauce is reduced and thickened.
4. Stir in the parsley and season to taste. Serve with some butter mash potatoes or rice and enjoy.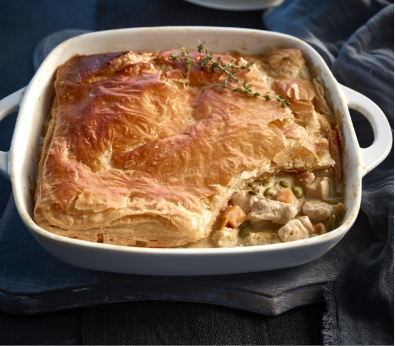 Chicken Pot Pie
INGREDIENTS
Serves: 4
3 Simply Better Irish Corn Fed Chicken Breast Fillets, cut into cubes
1 Pack Simply Better Dry Cured Unsmoked Irish Bacon Lardons
1 Tub Simply Better Irish Made Poultry Gravy
2 Tbsp Simply Better Italian Pesto alla Genovese with PDO Genovese Basil
1 Tbsp. Simply Better Cold Pressed Irish Rapeseed Oil
1 Block of Simply Better Ready to Roll All Butter Puff Pastry, thawed
250ml Simply Better Single Source Irish Jersey Cream
50g Butter
2 Carrots, diced
2 Celery Sticks, diced
1 Large Onion, diced
2 Cloves Garlic, crushed
100g Frozen Peas
1 Tbsp Fresh Thyme Leaves
Egg Wash (1 Egg and 2 Tbsp Milk beaten together)
Sea Salt & Freshly Ground Black Pepper
METHOD
1. Preheat the oven to 200°C (400°F/Gas Mark 6).
2. Heat the rapeseed oil and butter in a large non-stick frying pan over a medium heat. Add the diced onion, garlic, carrots, celery and sauté for 2-3 minutes until softened. Add the bacon lardons to the pan along with the thyme leaves and mix well.
3. Add in the cubed chicken and season generously with salt and pepper. Cook the chicken for 3-4 minutes until lightly browned on all sides.
4. Pour in the poultry gravy, basil pesto and cream to the pan and stir well to combine then add the frozen peas. Transfer the chicken and vegetable mix to an ovenproof dish and allow to cool for about 25-30 minutes.
5. Roll out the pastry to fit the size of the dish. Place the pastry on top of the dish and brush with the egg wash. Bake in the oven for 25-30 minutes until the pastry has puffed up and become golden brown.