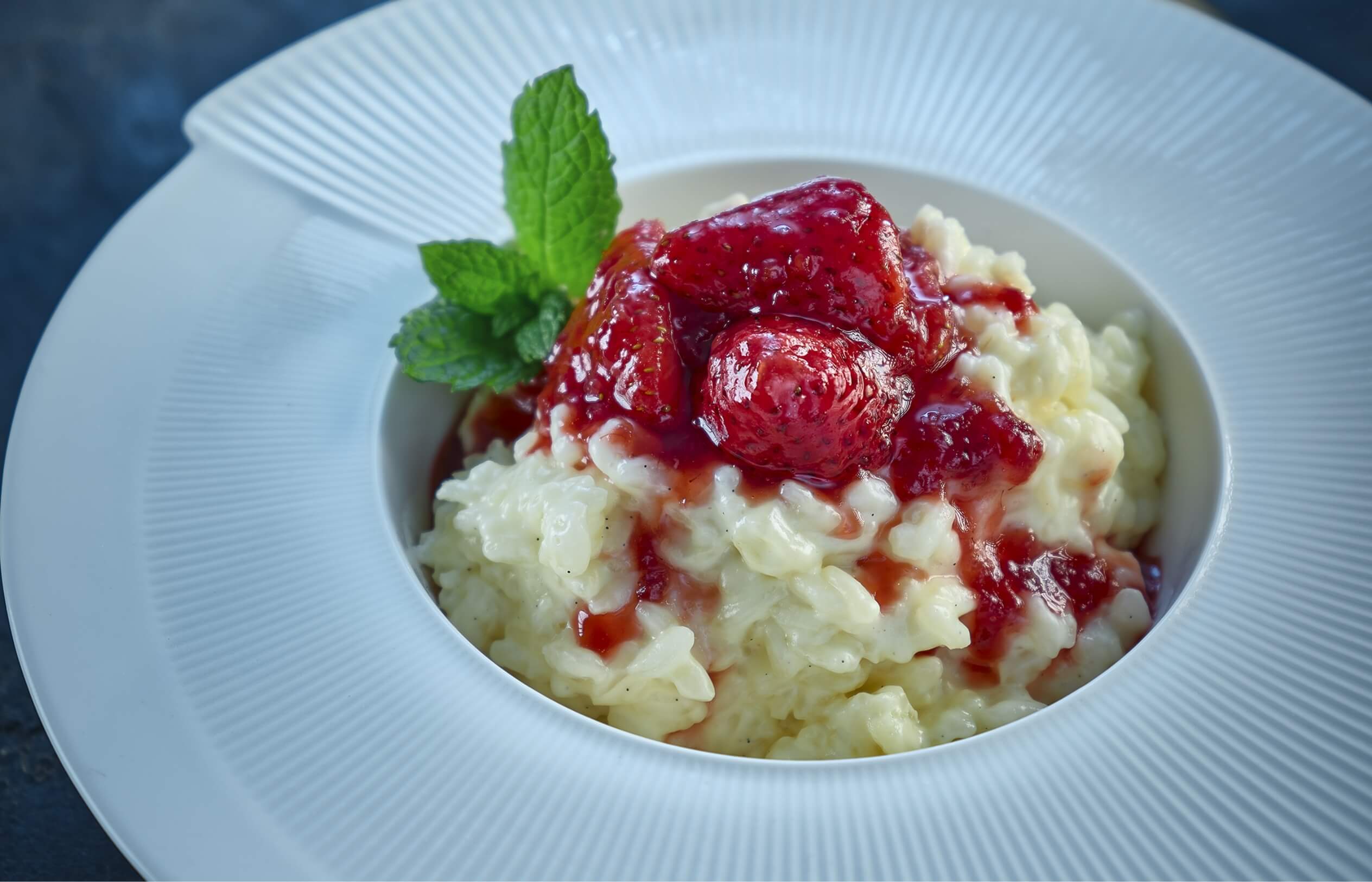 Vanilla & Lemon Rice Pudding with Irish Strawberry Compote
INGREDIENTS
Serves: 4
For the Rice Pudding
1 Litre Simply Better Organic Irish Jersey Whole Milk
250ml Simply Better Single Source Irish Jersey Cream
200g Simply Better Italian Arborio Rice
1 Vanilla Pod, seeds scraped out
Zest of 1 Lemon
50g Caster Sugar
For the Strawberry Compote
1 Jar of Simply Better Handmade Irish Raspberry Preserve
300g Simply Better Expertly Grown Irish Strawberries
100ml Water
1 Tsp Vanilla Extract

Spoon the prepared rice pudding into bowls and spoon some of the strawberry compote on top
METHOD
1. To make the strawberry compote, place the raspberry preserve, water and vanilla extract in a saucepan over a medium heat and stir well to combine. Bring to a gentle simmer than add in the frozen strawberries and cook for 3-5 minutes until the strawberries have softened but still hold their shape. Transfer to an airtight container and allow to cool.
2. For the rice pudding, place the milk and cream in a heavy based saucepan or skillet pan over a medium heat, along with the sugar, lemon zest, prepared vanilla seeds and the leftover pod. Whisk to combine and bring to the boil.
3. When the milk has come to the boil, pour in the Arborio rice and stir through the milk. Bring the milk back to the boil and then reduce the heat to a low simmer. Cook for 20-25 minutes stirring regularly to prevent the rice from sticking.
4. To serve, spoon the prepared rice pudding into bowls and spoon some of the strawberry compote on top.