IRISH LEMON AND STRAWBERRY TART
INGREDIENTS
Serves: 8
500ml Simply Better Single Source Irish Jersey Cream
1 Jar Simply Better Sicilian Lemon Curd
250g Simply Better Irish King Strawberries, sliced
50g Pistachios
For the Sweet Shortcrust Pastry
175g Plain Flour
100g Butter, diced and chilled
50g Caster Sugar
Pinch of Salt
1 Simply Better Free Range Corn Fed Egg
1½ Tbsp. Simply Better Organic Irish Jersey Milk
Zest of 1½ Lemon

Bake for about 15 minutes or until the pastry is firm, then remove the beans or rice and cook for about 5 minutes more
METHOD
1. To make the pastry, place the flour, butter, sugar and salt into a food processor and blend for 20 seconds. Add the egg, milk and lemon zest and blend again just until the pastry comes together – do not overwork the dough or the pastry will be tough. Wrap in cling film and chill for 1 hour.
2. Preheat the oven to 180°C (350°F/Gas Mark 4).
3. Roll the pastry out thinly on a lightly floured work surface. Transfer the pastry to a 23cm (9in) fluted loose bottomed flat tin ensuring the pastry is pushed into the edges of the tin. Transfer to the freezer for 10 minutes to firm up.
4. Remove the tart tin from the freezer. Line the pastry with baking parchment and fill with baking beans or rice. Bake for about 15 minutes or until the pastry is firm, then remove the beans or rice and cook for about 5 minutes more, until golden brown. Remove from the oven and allow to cool completely.
5. Whip the jersey cream in a bowl until you achieve soft peaks then fold in the lemon curd. Pour the lemon cream into the cooled pastry case. Arrange the sliced strawberries on top and scatter over the pistachio nuts. Keep chilled until serving.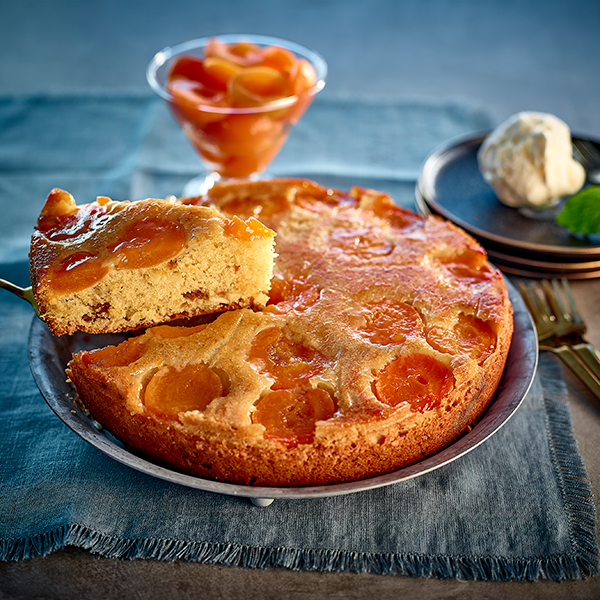 APRICOT & AMARETTI
SPONGE CAKE
INGREDIENTS
Serves: 8
Eggs
100g Simply Better Crunchy Italian Amaretti Biscuits
1 Tbsp. Simply Better Terra Di Bari Bitonto DOP Extra Virgin Olive Oil
Simply Better Italian Made Crema Gelato, to serve
200g Softened Butter, plus extra for the tin
200g Caster Sugar
200g Self-Raising Flour
1 Tsp Baking Powder
1 Tsp Almond Essence (optional)
Zest of 1 Lemon
1 Tsp Amaretto Liqueur
410g Tin of Apricot Halves in Natural Juice, drained
25g Flaked Almonds
2 Tbsp. Apricot Jam
METHOD
1. Preheat the oven to 180°C (160°C Fan/Gas Mark 4). Butter the base and sides of a 22cm loose-bottom cake tin and line with baking parchment.
2. Put the butter and sugar in a large bowl and beat with an electric mixer until light and fluffy. Break in the eggs, add the almond essence, flour, baking powder, lemon zest, olive oil and amaretto liqueur and beat again with an electric mixer until smooth and creamy, scraping down the sides of the bowl half way through.
3. Crush the Amaretti biscuits and gently stir them through the batter with the flaked almonds. Place the apricot halves into the base of the cake tin, then spoon over the sponge mixture and lightly smooth with the back of the spoon. Bake for 60 minutes to 1 hour 10 minutes until a skewer inserted into the centre of the cake comes out clean.
4. Turn the cake out on to a wire rack. Warm the apricot jam in a saucepan and brush over the presentation side of the cake (apricots facing up) and serve warm with a scoop of the Crema Gelato.