BLACK TIGER PRAWNS WITH CHORIZO & GARLIC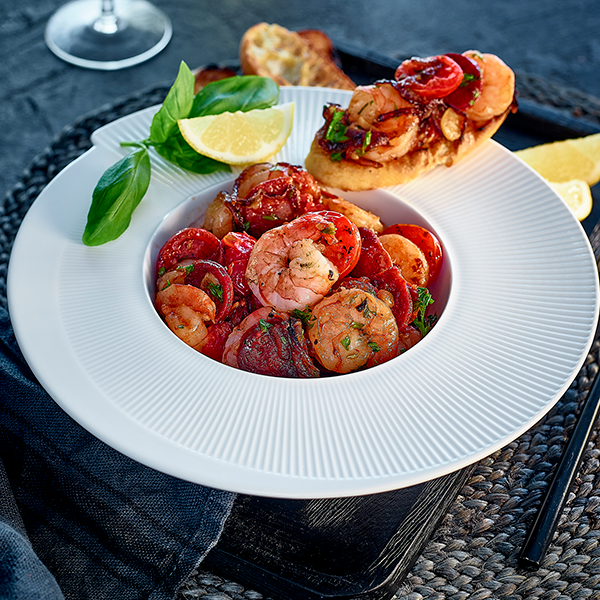 INGREDIENTS
Serves: 4
2 Packs of Simply Better Garlic & Herb Black Tiger Prawns
1 Pack Simply Better Handmade Irish Chorizo, thinly sliced
1 Pack Simply Better Irish Tomistar Tomatoes, halved
3 Tbsp. Simply Better P.D.O. Terra Di Barri Bitonto Extra Virgin Olive Oil
1 Red Onion, halved and finely sliced
1 Large Garlic Clove, crushed or thinly sliced
Zest of 1½ Lemon
1½ Tsp Smoked Paprika
1 Tsp Fresh Parsley, finely chopped
Sea Salt
8 Slices of Ciabatta Bread
METHOD
1. Preheat a large frying pan with the olive oil until smoking hot.
2. Carefully add the sliced onion and garlic to the frying pan followed by the sliced chorizo and toss together in the oil.
3. Reduce the heat to medium and allow to cook for a further 2-3 minutes. This allows the juices to come out from the chorizo and gives fantastic flavour.
4. Remove the prawns from their packaging and pat dry with kitchen paper to remove any moisture. Add the prawns and butter from
the pack along with the paprika to the pan and toss together with the chorizo, garlic and onion. Cook for 2 minutes before adding in the tomatoes, lemon juice, lemon zest and the chopped parsley and stir to combine.
5. Heat a griddle pan on a high heat. Drizzle the slices of ciabatta with the olive oil before adding to the pan. Reduce the heat to medium and let the ciabatta toast for 3-4 minutes on each side.
6. To serve, place the grilled ciabatta on serving plates and spoon the prawns and chorizo alongside.
IRISH TOMATO & PESTO PUFF PASTRY TART
WARM STEAK SALAD WITH BLUE CHEESE DRESSING
BURRATA & GRILLED NECTARINE SALAD
THAI SYLE LAMB BURGERS WITH CUCUMBER PICKLE
SWEET CHILLI SAUSAGE ROLLS WITH GRILLED PEPPER & FETA DIP
BLACK TIGER PRAWNS WITH CHORIZO & GARLIC
PAN SEARED CAJUN SALMON WITH ITALIAN PEPPER DRESSING
APRICOT & AMARETTI SPONGE CAKE
IRISH LEMON AND STRAWBERRY TART RECIPE
Find more of my delicious recipes online at Food&Wine and in special in store leaflets at Dunnes Stores