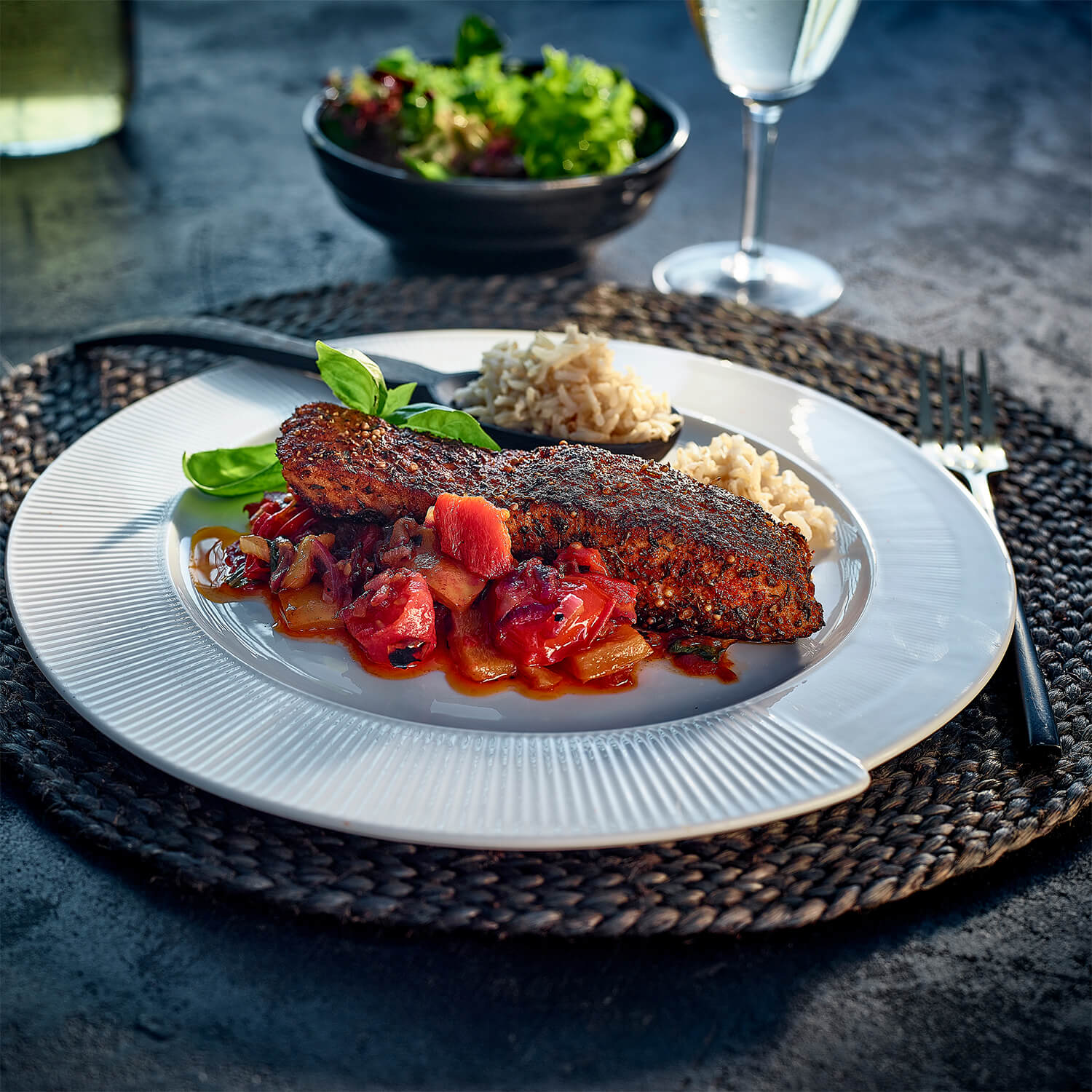 PAN SEARED CAJUN SALMON WITH ITALIAN PEPPER DRESSING
INGREDIENTS
Serves: 4
2 Simply Better Fresh Organic Irish Salmon Darnes
1 Tbsp. Simply Better Italian Extra Virgin Olive Oil
2 Tbsp. Simply Better Organic Cajun Spice Seasoning
Knob of Butter
For Italian Pepper Dressing
2 Tbsp. Simply Better Italian Extra Virgin Olive Oil
10 Simply Better Tomistar Cherry Tomatoes, cut in half
3 Simply Better Italian Grilled Peppers, diced
1 Red Onion, diced
1 Tsp Caster Sugar
1 Tsp White Wine Vinegar
Zest of 1½ Lemon
2 Tbsp. Fresh Basil, finely shredded
Sea salt, to season
To Serve
Mixed Green Salad
Roasted Baby Potatoes or Rice
Place the Cajun spice in a shallow dish and coat each salmon darne, shaking off any excess
METHOD
1. To make the Italian Pepper Dressing, heat a non-stick pan over a medium heat. Add in the olive oil followed by the diced red onion. Sauté for 4-5 minutes until softened but not coloured.
2. Add in the tomatoes followed by the caster sugar, white wine vinegar and lemon zest. Stir to combine everything together. Add in the diced grilled peppers followed by the basil & season with sea salt. Remove from the heat & set aside until required.
3. Place the Cajun spice in a shallow dish and coat each salmon darne, shaking off any excess. Heat a non-stick pan over a medium heat with the olive oil.
4. Add some butter and carefully place the salmon in the preheated pan. Cook for 2-3 minutes on each side until just cooked through, using a spoon to baste the salmon as it cooks.
5. Serve immediately with the green salad, roasted baby potatoes or rice and drizzle over the Italian pepper dressing.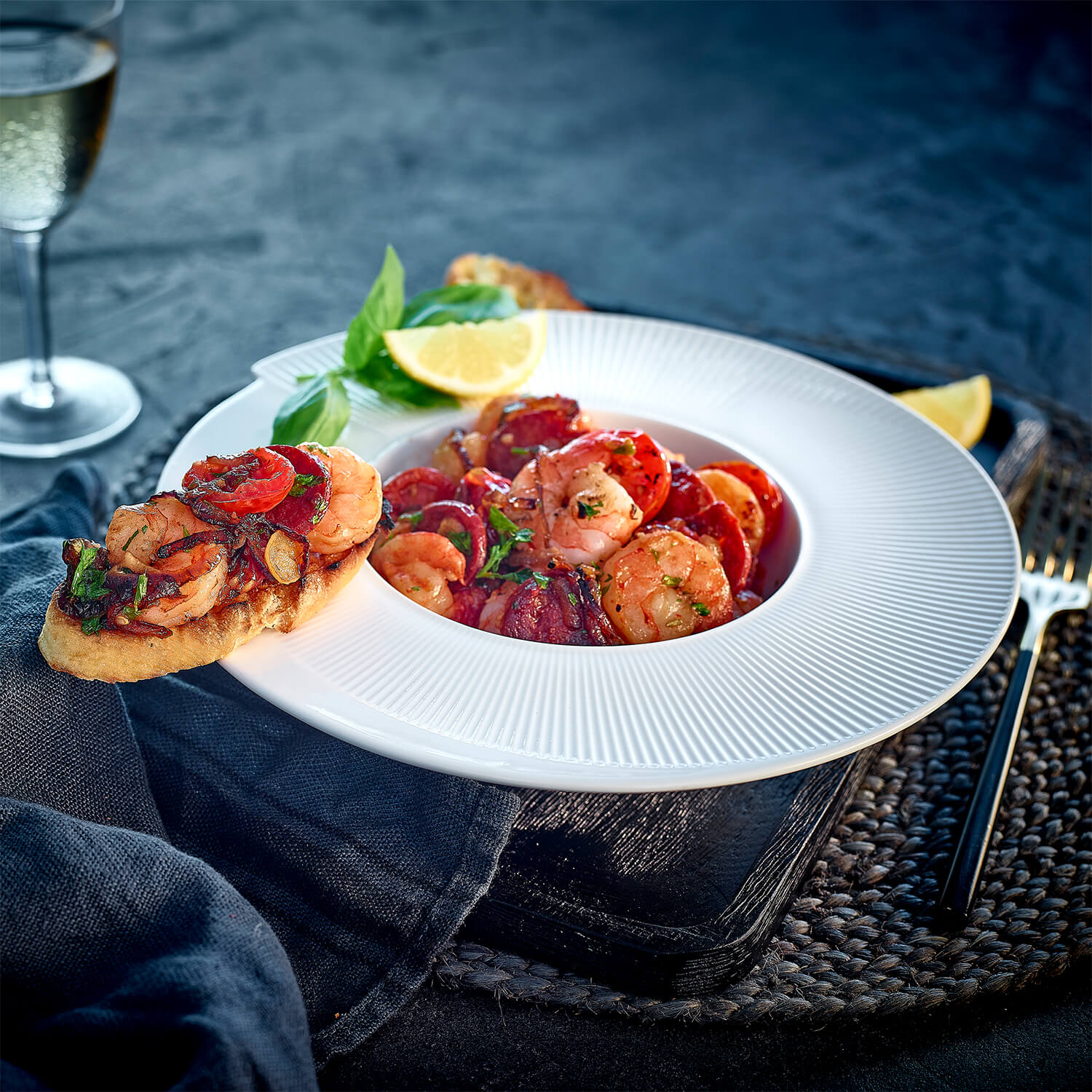 BLACK TIGER PRAWNS WITH CHORIZO & GARLIC
INGREDIENTS
Serves: 4
2 Packs of Simply Better Garlic & Herb Black Tiger Prawns
1 Pack Simply Better Handmade Irish Chorizo, thinly sliced
1 Pack Simply Better Irish Tomistar Tomatoes, halved
3 Tbsp. Simply Better P.D.O. Terra Di Barri Bitonto Extra Virgin Olive Oil
1 Red Onion, halved and finely sliced
1 Large Garlic Clove, crushed or thinly sliced
Zest of 1½ Lemon
1½ Tsp Smoked Paprika
1 Tsp Fresh Parsley, finely chopped
Sea Salt
8 Slices of Ciabatta Bread
METHOD
1. Preheat a large frying pan with the olive oil until smoking hot.
2. Carefully add the sliced onion and garlic to the frying pan followed by the sliced chorizo and toss together in the oil.
3. Reduce the heat to medium and allow to cook for a further 2-3 minutes. This allows the juices to come out from the chorizo and gives fantastic flavour.
4. Remove the prawns from their packaging and pat dry with kitchen paper to remove any moisture. Add the prawns and butter from the pack along with the paprika to the pan and toss together with the chorizo, garlic and onion. Cook for 2 minutes before adding in the tomatoes, lemon juice, lemon zest and the chopped parsley and stir to combine.
5. Heat a griddle pan on a high heat. Drizzle the slices of ciabatta with the olive oil before adding to the pan. Reduce the heat to medium and let the ciabatta toast for 3-4 minutes on each side.
6. To serve, place the grilled ciabatta on serving plates and spoon the prawns and chorizo alongside.
Add the prawns and butter from the pack along with the paprika to the pan and toss together with the chorizo, garlic and onion