IRISH TOMATO & PESTO PUFF PASTRY TART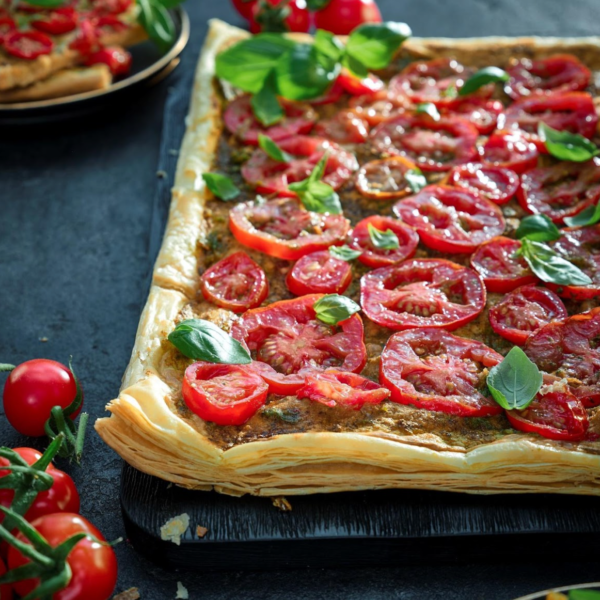 INGREDIENTS
Serves: 8
1 Pack of Simply Better Ready To Roll All Butter Puff Pastry, thawed
3 Tbsp. Simply Better Italian Basil Pesto alla Genovese with PDO Genovese Basil
250g Simply Better Irish Tomkin & Tomistar Tomatoes, sliced
125g Cream Cheese
Fresh Basil Leaves, to garnish
Sea Salt and Freshly Ground Black Pepper
METHOD
1. Preheat the oven to 200°C Fan (425°F/Gas Mark 7).
2. Dust a work surface with flour and roll out the puff pastry into a large rectangle measuring about 45x30cm/18x12in and about 3mm thick. Lightly score a 1cm border around the edge of the pastry using a sharp knife and transfer to a baking tray.
3. Smear a layer of cream cheese inside the pastry border, then cover the cream cheese with a layer of basil pesto. Arrange the sliced tomatoes on top and season with a little salt and pepper before transferring to the oven to bake for about 25-30 minutes until the pastry has puffed up and become golden.
4. Garnish the puff pastry tart with the fresh basil leaves and serve straight to the table.
IRISH TOMATO & PESTO PUFF PASTRY TART
WARM STEAK SALAD WITH BLUE CHEESE DRESSING
BURRATA & GRILLED NECTARINE SALAD
THAI SYLE LAMB BURGERS WITH CUCUMBER PICKLE
SWEET CHILLI SAUSAGE ROLLS WITH GRILLED PEPPER & FETA DIP
BLACK TIGER PRAWNS WITH CHORIZO & GARLIC
PAN SEARED CAJUN SALMON WITH ITALIAN PEPPER DRESSING
APRICOT & AMARETTI SPONGE CAKE
IRISH LEMON AND STRAWBERRY TART RECIPE
Find more of my delicious recipes online at Food&Wine and in special in store leaflets at Dunnes Stores